The 4-wheel drive tractors did the primary tillage which requires high horsepower to deep till the soil and secondary tillage which
involves very wide shallow seedbed preparation equipment.
The 2-wheel drive tractors were for crop care such as planting, spraying and cultivating for weeds, mowing and powering augers.
The Steiger on the left has a 360 horsepower Cummins engine and is attached to a 47.5 feet wide field cultivator which prepares
a seedbed for planting. The center Steiger has a 325 hp Caterpillar engine and is connected to another cultivator. The Steiger on
the right is attached to a disk and is a 310 hp Cummins.

Primary tillage with a V-ripper.
Primary tillage with a moldboard plow...360 hp Steiger pulling a 10-bottom DMI variable width plow.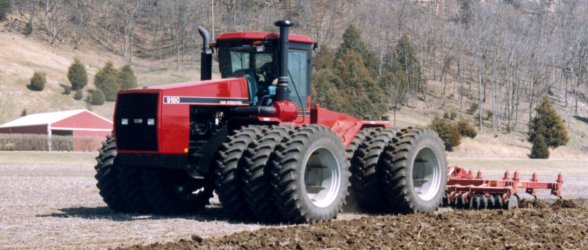 BIG...BAD...and RED . In 1989 we added this International Harvestor (Steiger) 9180.
It was our first tractor with "triples". It also had a Cummins engine with 375 horsepower and a powershift transmission.